Electric Six
Matt F. Basler
Fri,
Aug 20 2021
Show:

@ 8:00 pm
Off Broadway
All Ages
Additional Info
Moved to 8/21/21
All ticket purchases will be honored for new date.

The Devil has always been there. He is the great outsider, the original iconoclast. He is a conniving little shit and never seems to tire of giving humanity a wedgie or a wet willie just for a laugh. The Devil is capable of taking many forms. He can exist as one being or spread out amongst many. He can present himself as an ordinary man or as a horrific cloven-hoofed beast depending on his mood. Above all else, The Devil lives to corrupt, to adulterate, to defile.
Electric Six has often used The Devil as subject matter for its songs because of that last bit, the part about corruption and adulteration. That's what Electric Six has been trying to do with its music now for quite some time!!!! We want to corrupt young women….just like The Devil!!! There's nothing more rewarding than the seduction of a young innocent maiden, forcing her to wear demonic dresses, levitating her towards the great fiery skull and watching her eyes turn black as she gives into evil and becomes the bride of The Devil!!!! That….is why we started this band….to help women realize their potential as sexy evil maidens with eyes reflecting the utter darkness of a corrupted soul.
With its fourteenth studio album Bride of the Devil, Electric Six examines the concepts of evil and corruption, humanity's various falls from grace, the nine circles of purgatory and of course, the internet itself. Bride of the Devil opens with the thunderous opener "The Opener", a bombastic celebration of the arena rock Electric Six never got to play. The next two numbers are textbook ear worm guitar pop numbers that deal with debilitating income inequality and nepotism ("Daddy's Boy") and the horrors of being forced into a pool of toxic waste by an a rabid Doberman trained to kill ("(It Gets) (A Little) Jumpy").
And then we get to the title track, a radio anthem, where it all becomes clear that The Devil is a metaphor for Russia and the United States is the young girl who is seduced, corrupted and wedded into a Satanic covenant with the beast. It's all there in black and white. The Carrie Underwood-esque lyrics alongside a backdrop of vodka and caviar and backchannels and Seychllian bank accounts. That's how they did it. They went after our country performers and got the rubes to feel good about being Russian assets. And still, it is the feel-good anthem of the summer.
Finally, the haunting album closer "Worm In the Wood" is Electric Six at its most serious, most tender and emotional. Haunting. Effervescent. Corrupt. Jaundiced. Tired.
So there you have it. Electric Six is back with its fourteenth record and it's poppy and feel-good, as well as heavy, both sonically and lyrically. Our sound will corrupt you and enslave you as the beautiful demonic bride you know you truly are. Fraulein, take this severed hand with it's creepy long nails from the beginning of time. To do so is truly thine destiny.
Come see Electric Six on the "Russia, If You're Listening" tour this fall and into 2019. Bride of the Devil will be released on Metropolis Records on October 5, 2018 world-wide.
Artists
Electric Six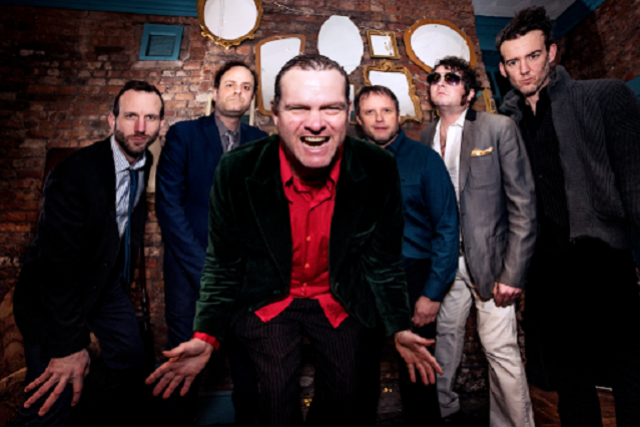 Hailing from Detroit, MI sextet Electric Six mix garage, new wave, and metal into in-your-face songs like "Danger! High Voltage," which reached number two on the British charts early in 2003. Singer Dick Valentine, guitarists Rock and Roll Indian and Surge Joebot, bassist Disco, and drummer M. formed the Wildbunch in 1996 , releasing their debut single, "I Lost Control (Of My Rock & Roll)." The group switched to Flying Bomb for singles like 1997's "The Ballade of MC Sucka DJ," the Christmas single "Flying Bomb Surprise Package, Vol. 1," and 2001's "Danger! High Voltage," which became an underground hit, particularly in the U.K. The following year the group signed to XL and re-recorded "Danger! High Voltage," this time adding backing vocals from the White Stripes' Jack White. After the re-release of the single in 2003, Electric Six issued their full-length debut album, Fire, later that spring. In 2004, the band got a new record deal with Rushmore, a British Warner Bros. imprint,. The second Electric Six album, Señor Smoke, arrived in the U.K. early in 2005. Early in 2008, Valentine embarked on his American Troubadour solo tour, which included stops in Hamtramck, Michigan, and Portland, Oregon; that spring, Electric Six recorded their fifth album, Flashy. Metropolis released Flashy that fall, followed by Sexy Trash, a 30-track album of demos and previously unreleased material, and two new studio albums, Kill (2009) and Zodiac(2010). The following year, the band took their sound in a darker direction, shifting slightly from dance-rock to synth pop on the nocturnal Heartbeats and Brainwaves. 2012 saw them bringing their high-energy live shows to fans on their first concert album, Absolute Pleasure. Their tenth studio album, Mustang, arrived in October of 2013.
Matt F. Basler