Angel Du$t
Candy, Dazy, Steve Marino
Sun,
Dec 3 2023
Show:

@ 7:00 pm
Off Broadway
All Ages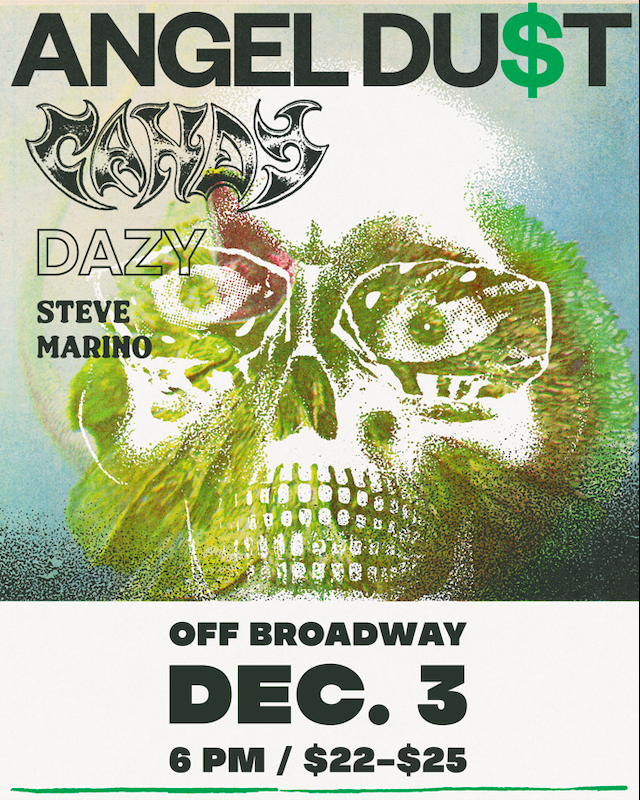 Additional Info
Angel Du$t
w/ Candy
Dazy
& Steve Marino
SUN. December 3, 2023
Doors 6PM | Show 7PM
$22 ADV | $25 DOS
All Ages (21+ with valid ID to drink, $3 minor surcharge under 21)
RSVP:
Angel Du$t w/ Candy, Dazy & Steve Marino
Artists
Angel Du$t
Justice Tripp lives in the future. For nearly two decades, the musician has consistently been ahead of the curve: first with Trapped Under Ice, where he led the way for a new wave of heavy hardcore, and then as the mastermind behind Angel Du$t, where he blazed the trail for the current generation of aggressive musicians to branch out into unabashedly melodic territory. Tripp's work is marked by an ever-evolving creativity that's made him highly influential, but which has often put him a number of steps ahead of the very trends that he's helped to inspire. Now Angel Du$t are back with their new album, Brand New Soul: a fearless and open-hearted tribute to all things rock, offering listeners a chance to be right there with them on the cutting edge. Tripp might forever be keeping an eye on the future, but Angel Du$t's time is now.
Since forming in 2013, Angel Du$t has always been something of a musical catalyst. "For better or worse, it seems like it's hard for me to do something that's cool at that moment," Tripp laughs. "Even with Trapped Under Ice, we weren't that big of a band when we were active, and then with Angel Du$t it was pretty divisive." Trapped Under Ice had ushered in a renaissance of metallic hardcore, but as they were winding down, Tripp found himself pulled in a very different direction. "I'd been touring in heavy hardcore bands since I was 13, but my favorite band is Bad Brains and that band had all these major key sounding songs–I just wanted to play something new," he explains. Angel Du$t's 2013 demo Xtra Raw and 2014 debut album A.D. were lightning-quick blasts of punk, combining d-beat gallop and hardcore thump with a giant dose of catchiness. A decade on, these records and their follow-up, 2016's Rock The Fuck On Forever, have proven to not only be modern classics, but also crucial templates for the current boom in hardcore's visibility and popularity. At the time, however, these were daring sounds for a musician primarily known for his ability to capture rage in a song. "I lost friends over it," Tripp recalls of Angel Du$t's early years. "People were so offended and upset by me making this music. Angel Du$t isn't about self-hatred, it's about love. And at the time that didn't feel like what people wanted from me–they wanted me to be the evil guy."
Far from deterred, this desire to upend expectations became a central tenet of Tripp's work. 2019's Pretty Buff and 2021's YAK: A Collection of Truck Songs found Angel Du$t veering even further into full-on guitar pop, highlighting Tripp's seemingly infinite well of hooks as well as his knack for imaginative production and lush arrangements. "People can be afraid to grow, afraid to change," he says. "But I want to be an artist, I want to change and I want to evolve. I love punk and hardcore, and that's always going to have a place in my heart, but I want to challenge things." Enter: Brand New Soul, a record that manages to bridge Angel Du$t's past, present, and future into a 13 song, 29-minute, one-of-a-kind rock and roll joyride.
Recorded by Paul Mercer, mixed by Rob Schnapf and Steve Wright, and produced by Tripp himself, Brand New Soul feels like the most potent encapsulation of Tripp's vision to date. "This was the first time I've ever produced our music myself," he says. "I think what's important about that is the freedom to try anything you have in mind. Rock and roll is such a broad spectrum of music, but I think sometimes people will get really hyper-focused on certain tiny moments or niches and that's blasphemy to me. There are all these tools that come from rock and roll that we can use. I wanted to try and represent a lot of different angles. It feels like we're just totally off the leash."
Tripp's rock and roll circus is brought to life by an impressive cast of characters. Angel Du$t's membership has always been made up of incredibly talented musicians, and Brand New Soul solidifies the key players with the live lineup of Daniel Star (guitar), Steve Marino (guitar), Zechariah Ghostribe (bass), and Thomas Cantwell (drums/percussion), as well as contributions from longtime collaborators like Daniel Fang (drums/percussion) and Pat McCrory (guitar), and vocal appearances from Mary Jane Dunphe and Citizen's Mat Kerekes. "The band has always centered around me, but I've never written the music just for me," explains Tripp. "It always felt like it was meant to be played by a band, I love the team effort. Angel Du$t isn't about me–it's about the spirit of rock music and the energy that that gives off. It's like we're committed to a cause." The record feels like the sum of its eclectic parts, all united by Tripp's daring and unshakeable creativity in the producer's chair. "I wanted to just be able to try anything with no fear," he says. "I can't operate with fear. This record is about zero compromise, it's about giving yourself over completely to what you're doing. It's not about ego, it's about submitting yourself to this feeling–it's rock and roll music, period. That's it."
The opening title track lays out this mission statement with a collision of punk speed and R&B swagger, all careening into a quasi-breakdown that somehow combines hardcore stomp with a hip-shaking bass line that can't be ignored. "Brand New Soul" is immediately followed by "Love Slam," which serves as a pulse-pounding reminder that no matter what sound or style Tripp is playing, hardcore will be part of the DNA. "Hardcore music is who I am, and hardcore is rock and roll," he says, adding with a laugh, "And rock and roll music makes me want to jump on people."
There's no doubt that tracks like the furious "Space Jam" or "Sippin Lysol" will inspire those unhinged good times at Angel Du$t shows, and it's a testament to the success of Tripp's try-anything approach that those songs flow seamlessly on Brand New Soul alongside songs like the lushly arranged "I'm Not Ready" or the Paul Simon-influenced "Don't Stop." Parts of the record directly nod to Tripp's love of different corners of guitar music ("Fuel For The Fire," with its hard rock riffs and old school mix panning, or the album's twisted cover of The Conehead's "Waste of Space"), while elsewhere he continues to push the boundaries of what a rock song can be ("Born 2 Run," which morphs from longing guitar pop into a pulsing electronic landscape, or "Racecar," which throws mellotron, acoustic guitar, screaming, and endless layers of percussion into a blender with reckless abandon).
Throughout Brand New Soul, Tripp steps out on the line lyrically as well, opening himself up more than ever and imbuing every musical left turn with real pathos. On "Born 2 Run," Tripp laments the challenges of being vulnerable with new people in your life, and "Racecar" expresses frustration at those who are quick to judge–even within supposedly open-minded spaces like underground music scenes. "In The Tape Deck," "Don't Stop," and "I'm Not Ready," meanwhile, are surprisingly bare love songs that explore the deeply human need to find people in your life with whom you can truly be yourself. "Me and my friends don't live average lifestyles," Tripp says. "Not everyone can understand that, but you find people who are willing to live with you in an unconventional way, who will be a weirdo with you."
It's this combination of heart and inventiveness that makes Brand New Soul such an endearing listen, and the record almost feels like a proof-of-concept for the daring spirit that's led Tripp his entire life. His story is far from fully written, but ten years into Angel Du$t, it's finally starting to seem clear that the songwriter's many creative risks have paid off. The band's influence is palpable, and Brand New Soul is poised with open arms to bring even more people into the unique world Tripp has created–one where stage dives and sweetness fit perfectly together, and everyone is welcome to get in on the fun. "The music bringing people together is the most important thing," he says. "I would hope that the biggest impact we've had is just encouraging people to express themselves."
Candy
Candy – The band that holds it all in to best let it all out.
Heaven Is Here is the sort of record that some people may like to describe as groundbreaking or genre bending but this kind of claim comes with a caveat. I've got good news for the world: you're no longer able to redefine hardcore. It was always a figment of someone's imagination anyway and at this point we're all trying to guess what it even is, let alone how or why to change it. Breaking ground is no longer about formal innovation but about the desperate and frantic hope that you can make sense of as much information in the world as you possibly can at once. Being human, but pulling the worst of yourself out and putting into your music-making might seem like a reckless way to make a statement but for Candy, it works. Heaven Is Here puts together so many chronologically disparate elements with the confidence and care to graft their relativities together under what basically sounds like extreme duress. Their words and music specifically strive to replicate moments of impact and anxiety, obsessive compulsive thinking, and extreme cynicism so that they might not have to effect how to come down from these types of overwhelming feelings on a day to day basis. Negativity-as-productivity fills the sensational energy that Candy have built into their sound and live shows, and now most specifically their latest LP.
What this record does is help to lengthen the floodplain of what can be considered normal. Heaven Is Here shares so much of what people seek out in fractal, defragmented little blips over a lifetime, and slams them together in some kind of audio ballistics gel of heavy music, electronics, and popular culture. Designing this sort of summary into a piece of work seems simultaneously fearful and egotistical, but is better seen as a reflection of the realistic materials at hand. Speaking directly to their incorporation of electronic elements in Heaven is Here, it's not so much that Candy insist on progression, but that they will not accept regression. In a day and age in which a primary complaint of alienated, disappointed musicians might be that "you can make music on your phone these days," Candy in turn feel the same but instead, have rushed to run through what they see as an open door through which to make their music better and more filled with intensified chaos than ever before.
Yet still, they feel there is no line to have stepped across between when they began and where they've ended up. Just a fuller realisation of the same intent over the span of multiple recordings and a mass of gigs. There is, however, a line through time for Candy. One which permeates all iterations of "extreme" music – from the most simplistic and un-nuanced, to what we now consider the touchpoints of the cannon.
"I find it funny that we sometimes treat old extreme music like Throbbing Gristle or gabber, or Nitzer Ebb as wildly different than other artists working in similar time-frames, like United Mutation, Crossed Out, or Disclose" says guitarist, Michael Quick, who calmly manages to organise his musical intentions with the experience of having to exist in a long long history of sub-genre habituation.
Lyrically, we see a perfect counterpoint to this process of throwing everything at once into the
creative process in order to bring the "rest of the world" with you into the new one you've created. The laser focus and short cynical borderline poetics of Zak Quiram specifically set an intention of declarative and pointed thinking. Specifically marking out territory that reminds you that Candy's world lives elsewhere to the rest of society. In this lies the great connection between the nihilism of their music and the optimism of criticism: "We don't want to transport the listener from the nightmare of a world we're living in. We want them to face the harsh and ugly truths in the hopes to spark a thought and use those ideas to disrupt the society we live in." Facing the worst of things and bringing that into your life as an uncontrollable force is what we have on our hands here, from the moment of its inception, to its capture and completion as an LP.
This is kind of music you think is "normal" after years of abusing your hearing and constantly reassessing what you accept as sounding "good" or "heavy," learning what sounds bad on purpose, and how to hear what might just be unintentionally genius. Death Metal riffing pressed on a Flexi-disc with flashes of industrial dance dressed up in a low mosh; Raglike bodies clattering around in synch moved by a pummelling din that would extract an instant confession from the most tightlipped spy; A record where the songs feel like a merciful reprieve from the screeching interludes; A masterfully nonsensical almanac of noise welded together by the unpredictable ways that we hear and reproduce the music we love in the era of unending dopamine hits and a virulent technological doom.
Heaven is Here but Hell is on your turntable.
Dazy
Big room hooks with bedroom production. That's the ethos of James Goodson, the, well, everything behind Dazy. Since releasing his first single in August of 2020, the Richmond, VA-based songwriter has been using Dazy as a vehicle to make the kind of music that he always wanted to hear, and he's been making a lot of it. By the following August, Dazy had already put out enough material to release MAXIMUMBLASTSUPERLOUD: The First 24 Songs (Convulse Records), a sprawling collection of the project's first year. Now, Goodson has set his turn-and-burn approach to the side in service of crafting something that was initially antithetical to his whole mission: Dazy's debut full-length, OUTOFBODY.
"A lot of Dazy has been about pushing myself out of my comfort zones, and at first that just meant finally putting out new music at all," he explains. "I've always played in bands and made music, but before Dazy I'd been sort of stuck for a while. I never stopped writing songs but I wasn't sure what to do with them, and they were piling up on my computer for years." The project's flurry of early releases was Goodson's way of shaking off the nerves about sharing music with the public. "There's something about doing singles or EPs and putting things out quickly that helped me rip the bandaid off–I also just think they're fun," he says. "But once I got into a rhythm with that, I felt like I had to push myself again to make an actual album."
Released by Lame-O Records, along with a cassette version from Convulse Records, OUTOFBODY walks a sonic line between the two labels. There are the loud, noisy, abrasive tones you'd expect from a record on Convulse, and the rich, textured harmonies of a Lame-O band. That's because Goodson doesn't take influence from one scene; instead, he set his sights on entire eras. "I think I just wanted to take the initial concept of the band–which was referencing what big-room rock music was 30 or 40 years ago, but asking, 'What if you made that at home?'–and push that as far as it could go," he says. "I think that's the Dazy sweet spot: trying to make songs that feel big but using means that are a little rougher." And so, despite the inherently more ambitious nature of making a full-length, Goodson took his usual approach at home, in the spare bedroom, with a couple of small amps and Garageband. After narrowing down the potential tracklist from over 100 songs, he spent countless hours writing, recording, and obsessively tinkering. The songs were then sent to Justin Pizzoferrato (Dinosaur Jr., Wild Pink, The Pixies), with whom he'd been working since the first Dazy release, to be mixed and mastered.
In 12 songs and just over 25 minutes, OUTOFBODY answers the question of what if a Ramones album was a collaboration with Kevin Shields. The songs are short, punchy, and so melodically sweet that it almost makes you wish the band name Sugar wasn't already taken—though Bob Mould's interest in alt-rock and drum machines is a pretty good reference point, too. The record incorporates Goodson's love of punk, college rock, Britpop, and jangle pop to expand upon Dazy's initial goals: the guitar fuzz is still thick and the drum machines are thumping, but there are also quiet, tender moments. Songs like "Split" and "AWTCMM?" set introspection to bouncy backbeats and buzzsaw guitars, while the softer "Rollercoaster Ride" and "Motionless Parade" serve as dynamic counterpoints with prominent acoustic 12-string and mellotron. Elsewhere "On My Way" and "Ladder" emphasize how key the rhythmic component is to Dazy's sound. "A lot of my biggest influences come from the '80s and '90s because bands were throwing rock guitars in with dancy drum beats or keyboards or whatever–just all these different things existing together," he says. "I love rock music tropes but I also love that they're more malleable than you might think."
That musical approach bolsters Goodson's lyrical concerns on OUTOFBODY. "Some of the songs are from years ago, and some were written as I was recording–but I noticed that a lot of them seem to be about feeling pulled in different directions, or this sense of your life becoming more compartmentalized," Goodson explains. The title track opener lays those themes bare from its very first lines ("Is that my voice leaving my own mouth? / Double check the source, cuz I've got reason to doubt"), the uncertainty contrasting with the song's assuredly cacophonous ending. "I think a lot of times as you get older, you feel pushed towards 'Who are you? What is your thing?' when the reality is everybody is so many different things and always changing," Goodson says. Life's constant shifts seem to occupy much of OUTOFBODY; the stomping verses of "Deadline'' give way to dreamy choruses about always feeling pressed for time, while the refrain of "Choose Yr Ramone" ("Time relentless / I'm still senseless") walks a line between self-awareness and self-deprecation.
By the time OUTOFBODY's closer "Gone" reaches its end, with mellotron strings, interwoven vocal melodies, and a musical callback to the opener, you get the feeling that Dazy is limitless. The song sounds anthemic but undeniably wistful, while the lyrics caution against the lure of nostalgia, instead embracing life's cumulative effect: the past that helped shape you, the future you're hoping for, and the present that you have to grapple with regardless. "I think a lot of life is just feeling unsure or pulled in different directions, but that's not necessarily a bad thing," Goodson says. "If you're lucky, you'll get to go in as many of those directions as you want."
Steve Marino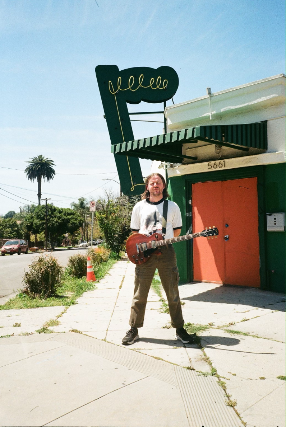 You might be new to Steve Marino's music, but Steve Marino is not new to music. From fronting alt-rock outfit JACKY BOY to performing in groups like BUGG and ANGEL DU$T, Marino has been making serious noise for the better part of a decade. Though he's known as a touring member of some of the most rocking bands around, his bag of tricks doesn't end there. Steve Marino has stepped forward as an exceptional songwriter in his own right, confidently exemplified by his new record Too Late to Start Again.
Despite outwardly being a "solo record", a spirit of collaboration is deeply embedded throughout Too Late to Start Again. "These are songs I wrote and demoed in my bedroom," Marino says, "But inviting other people into the studio who I respect and trust keeps me open minded. Loosening my grip over 'my' song has only served me well." Once again teaming up with producer Ben Lumsdaine, the pair have crafted a record that marries the pop rock polish of SHERYL CROW & THIRD EYE BLIND with crate-digger bonafides like MARSHALL CRENSHAW or SMUDGE. Additionally, the record features guitar work from Matt Berry (THE BERRIES/BIG BITE) and Kora Puckett (BUGG/NARROW HEAD), whose contributions further enliven the songwriting by channeling the finest from the alt-rock era.
But don't get it twisted: Too Late to Start Again is not simple genre-revivalism. This record is a sincere expression of Marino's lifelong love for this kind of music. "A huge factor in writing these kinds of songs is capturing memories," he says. "From gifting So Much For the Afterglow to my mom for Mother's Day to my dad listening to OASIS on his boombox – I want to make sounds that teleport me to when I was a kid."
Originally hailing from Florida, Marino moved to Bloomington, Indiana to participate in a small-town music scene that consistently punched above its weight. He's since relocated to Los Angeles, and Too Late To Start Again reflects his change of scenery. Where 2019's Fluff was a nostalgic, intimate navigation of love and life in a college town, Too Late To Start Again is sonically sunny and optimistic, with FM-friendly flourishes that retain DIY instincts and lyrical world-weariness.
Tracks like "Got You In My World Now" and "Tune You Out" are packed with hooks and tailor-made for blasting out of an open car window. Elsewhere, "Leaning Off The Sun" and a tender TEENAGE FANCLUB cover invite moments of sweet introspection. Multi-tracked harmonies and danceable drum patterns are in abundance throughout the record, imbuing the songs with an approachable vibrancy that makes Too Late To Start Again distinct not only from Marino's previous solo material, but from the other bands he tours in, too.
So while this new record reflects a tonal shift in Marino's musical output, it also operates as a sort of return to form; a journey inward to a more authentic sense of self. According to Marino, "As I've gotten older, I've reconnected and immersed myself in the music surrounding my youth and have more confidently settled into my identity as a power-pop/alt-rock (whatever you wanna call it) songwriter." Likewise, the title of the record itself – Too Late to Start Again – further embodies Marino's candid self-understanding: "I've been doing this 'music thing' for a while now," he reflects, "I used to get frustrated comparing my success with others my age, but being in my 30s now, I realize I'm past the point of starting over. Trying to make a living touring and recording music is the one thing I want to do with my life, period."
Steve Marino isn't just another hardcore dude cashing in with a power-pop side project. Too Late to Start Again is an honest testament to Marino's dedication and passion for music, and a nuanced step forward for a scene veteran whose new collection of songs demonstrates that he still has so much more to say.