Beat Street Festival at Off Broadway
Brick City Soundsystem, Boss Battle
Sat,
Sep 11 2021
Show:

@ 6:00 pm
Off Broadway
All Ages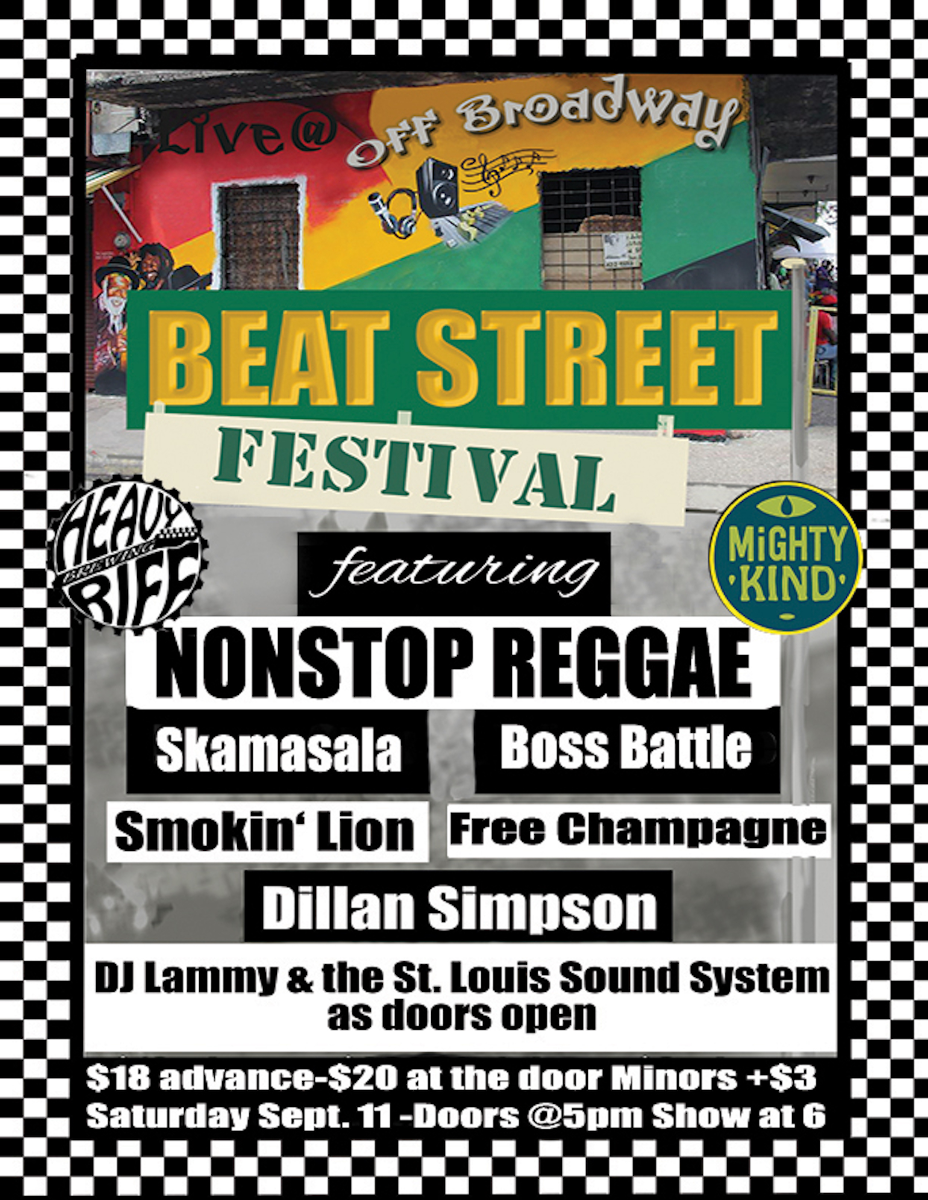 Additional Info
The sounds of Ska, Reggae, and Dub originated in Jamaica and have spread their joy around the world, influencing bands of all styles with the offbeat guitar and walking rhythms. It all started in Kingston on Orange Street aka "Beat Street".
For years, St. Louis has had a strong presence of artists playing Jamaican music both traditional and modern, mixed with rock, funk, soul, jazz, punk, and more.
On Saturday, September 11th local ska DJs Knucksie and Monkey Man are joining forces with one of our favorite local venues, Off Broadway, to bring you "Beat Street Festival" featuring 7 local acts in one amazing night!
Join us at 5pm, for a full night of St Louis ska, reggae, and dub starting with DJ Lammy of Brick City Soundsystem, Dillan Simpson of The Third-Rates (solo set), Free Champagne, Smokin' Lion, Boss Battle, Skamasala, and ending the night with Non-Stop Reggae!
VACCINATION POLICY:
Effective Wednesday 8/11/2021, admission to our shows will require proof of at least one dose of a COVID Vaccination or a Negative COVID Test administered by a doctor or a pharmacist within the previous 72 hours. No self-administered tests will be accepted.
Proof can be in the form of either your physical Covid-19 vaccination card or a photo on your phone.
Face masks will still be required while inside the venue. Per the St. Louis City health department mandate, face coverings are required to be worn when inside public places, by those 5 years and older, regardless of COVID-19 vaccination status. Effective face coverings must completely cover the nose and mouth and must be worn at all times unless actively consuming food or beverage. Face shields, gaiters and bandanas are not acceptable as primary face coverings.
Thank you for your continued cooperation and support.
Artists
Skamsala
Brick City Soundsystem
Boss Battle