Hurray for the Riff Raff with Squirrel Flower
Squirrel Flower
Wed,
Jul 26 2023
Show:

@ 8:00 pm
Off Broadway
All Ages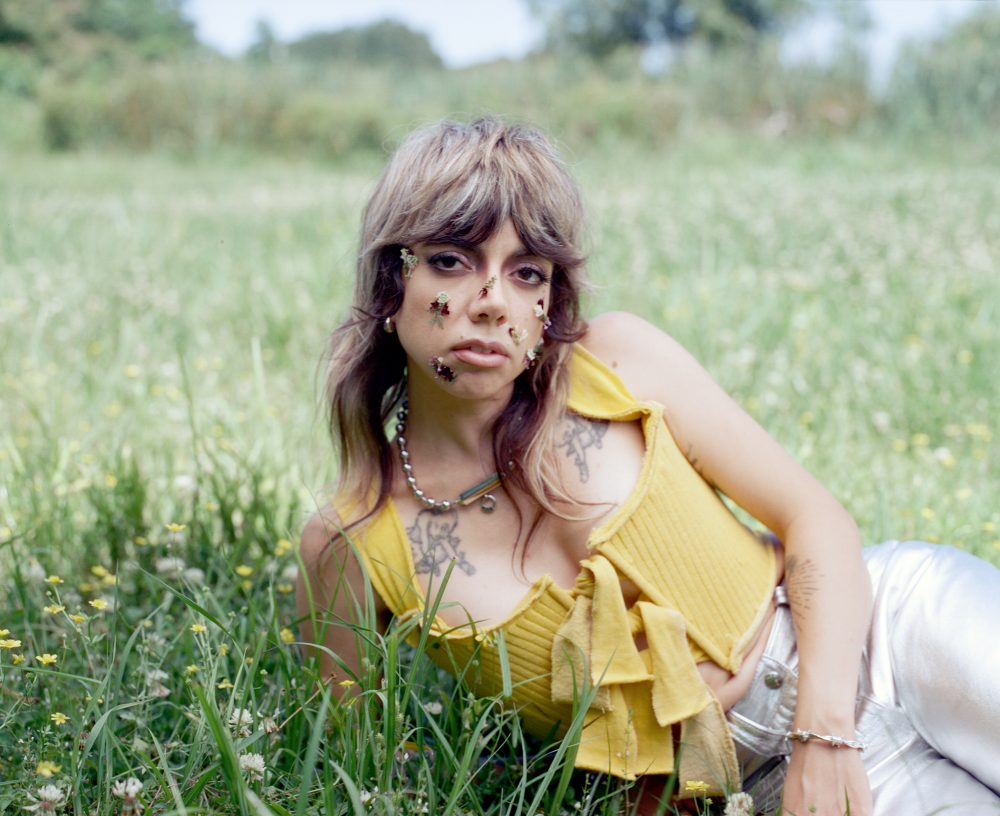 Additional Info
Hurray for the Riff Raff
with Squirrel Flower

WED. July 26, 2023
Doors 7PM | Show 8PM
$20 ADV | $25 DOS
Artists
Hurray for the Riff Raff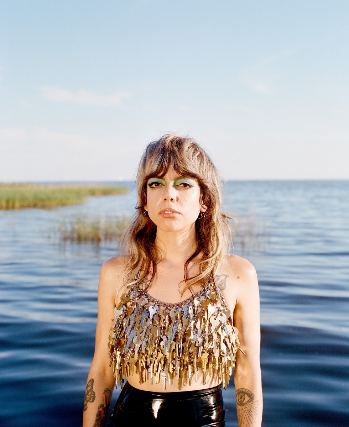 One of the reasons you started listening to music in the first place might have been in the hope of finding the kind of conviction and fierce rawness evident in Hurray for the Riff Raff's, aka Alynda Segarra's, "nature punk" manifesto about survival, LIFE ON EARTH. A visionary musician, Segarra (they/she) is an outsider in whose voice you might find echoes of your own. On her eighth full-length album, Segarra is creating music of honesty and portent.
If there hadn't been a pandemic, Segarra might have made a very different sort of album from Life on Earth, which became the record she's waited a lifetime to make. Like the rest of us, Segarra had the disconcerting experience of putting the brakes on life as they knew it in March 2020. "I need to keep moving all the time," says Segarra on a Zoom call from their light-filled studio in the shotgun house they call home in New Orleans' Seventh Ward.
Segarra had been a human embodiment of Newton's First Law of Motion even before they ran away from their home in the Bronx at age seventeen, illegally hopping freight trains or hitchhiking across the country in the company of a band of street urchins, sleeping rough under dense underbrush at night and hiding in trees for shelter. Coming from a fractured family, they weren't quite sure what they were looking for, but they had the feeling they would know it when they found it. And they did when they pulled into New Orleans in 2007. There Segarra formed two bands: Dead Man's Street Orchestra and Hurray for the Riff Raff, releasing an EP and seven albums with the latter.
In 2015, Segarra temporarily decamped, first to Nashville, then home to New York. Her 2016 Hurray for the Riff Raff album, The Navigator, was a quest to reclaim her Puerto Rican identity. Each song segued into the next in a tight narrative arc, uncovering important hints through the lens of her ancestors.
"I feel like I'm always leaving clues in my song, hoping my listeners will follow the breadcrumbs," says Segarra with a short laugh. On Life on Earth, they just might. This time, she's chosen a topic that affects us all: our relationship to the natural world. "You could call Life on Earth survival music for the end times," says Segarra. "But not just surviving—learning how to thrive. The importance of adapting and learning from nature—those were the themes that kept coming to me."
They continue, "Not being able to travel and get out whenever I felt nervous energy inside me, it really did a lot to bring back memories. It was a very reflective time, and it taught me a lot about trauma and memories being stored in the body," says the musician. "I started running because that was the best way I could work out all of these weird feelings that were bubbling up and swirling around inside me."
While running, Segarra saw a New Orleans that they had never noticed before, coming face-to-face with the unruly plant life. "I felt the nature in New Orleans has this really rebellious energy, because it's like nothing can get it down," explains Segarra. "I was thinking of this loneliness, then all of a sudden I was looking at this plant life around me and feeling, 'Why did I feel so lonely when you're here?'"
Segarra also decided to deal with the trauma by seeing a therapist who specialized in EMDR (Eye Movement Desensitization and Reprocessing), a kind of psychotherapy that helps people resolve unprocessed traumatic memories in the brain. "So much of what we're going through right now is about really claiming this moment that we're in and admitting that this is the world that we've inherited," they say solemnly. "It's not the world that we hoped to inherit or that we thought we were going to, but it's the one we got, and we have to take the reins and decide what we're going to do with it. This album is a lot about that."
"For me, every album is almost a film or a novel or a world I create that I want to live in. I want it to have themes and language, a cosmology or a lexicon, so the listener can live in it, because that's what I loved about punk and the music that I was drawn to. It wasn't just about the music, it was about joining a crew," says Segarra.
As is their habit when making an album, Segarra was relentless in their research, thumbing through books on flowers and plants and watching documentaries, such as Blank City and Jupiter's Dance, about the music scene in Kinshasa. Another touchstone was Beverly Glenn-Copeland's Keyboard Fantasies, released in 1986. "It is very nature-meets-early electronic music. It had this total rejuvenation during the pandemic."
Segarra also drew inspiration from reading the poetry of Joy Harjo, the United States Poet Laureate (the first Native American to hold that honor) and Ocean Vuong, the award-winning Vietnamese American poet and author of On Earth We're Briefly Gorgeous. Vuong's voice in on the album's "nightqueen," in an excerpt from an interview he did with On Being's Krista Tippett. Another source that sparked Segarra was adrienne maree brown's book Emergent Strategy. "It's like a toolkit or a map for activists and people in organizing movements of how to learn from nature, how we can flock together, how we can learn to be adaptive and resist and grow and thrive, and trust each other," they explain.
Segarra's work with Freedom for Immigrants also impacted their writing. "I felt like the world was going to shit and I needed to be useful. Then I found Freedom for Immigrants, an organization that creates little contingency groups across the country of people who volunteer to visit people in detention who need help from the outside.
This also changed the music they wanted to make. "It was time to get a little bit messier and scare myself," Segarra says. After speaking to several producers who were wonderful but did not feel like the right fit, Segarra decided to call Brad Cook, because she had fallen in love with his work on Waxahatchee's Saint Cloud, Kevin Morby's Sundowner, and Hand Habit's Placeholder.
"When I talked to Brad on the phone, I instantly felt, 'I don't have to be afraid around him.'" In the middle of the worst of the pandemic, she decided to drive from New Orleans to Cook's studio in Durham, North Carolina, to see if her instincts about working with him were right. "When I met him I was just like, 'This is my brother. This is who can help me.' He opened a door to his studio and was like, 'Go crazy. Play around with my toys.' So that was really one of the biggest changes in my sound.
"I don't want to say all that stuff made me change my sound," assures Segarra. "I already wanted to. So much of my twenties was spent being very nostalgic and feeling I was born in the wrong time. I didn't want to do that anymore, because finally there's resistance happening, a young-people movement wanting to change the world. Popular music has also been opened up more toward women and people of color, queer people. I was more excited about being in the present moment, and I wanted to use the tools of now.
Segarra also pushed themselves further than they ever had before. "There was a moment during a demo of 'Pointed at the Sun' that was just me and guitar. At the end [of the song] I started crying during the 'crucify myself' part. I've never fucking cried during a recording! I'm always way more in charge! Things are not in charge of me!" says Segarra, still a little incredulous. "When I was done and I apologized to Brad, I saw he had tears in his eyes too."
On her most emotionally intense album yet, Segarra constructs an alternative reality—or, in their words after their recent temporary escape from New Orleans because of Hurricane Ida, "a soundtrack to evacuation." It kicks off with the insistent call to action of "Wolves," which recalls their teenage odyssey from New York, a song about disaster, survival, and running for your life. "Pierced Arrows" is a claustrophobic tunnel vision of heartbreak that they attempt to outrun. "You can't outrun it. The past is always right there," they say.
"Pointed at the Sun" is autobiographical and fiery, a high-soaring declaration song in which life force is activated, decisions are made, and autonomy is reclaimed. "Rhododendron" is about being faced with your own toxic behaviors and patterns and actively choosing a new path. "Jupiter's Dance" was inspired by the documentary Segarra watched about musician Jupiter Bokondji, but it is also a prayer for the children in ICE facilities, trying to make their way to safety.
"Life on Earth," written before the pandemic, is as much a hopeful plea as a funeral lament: Sad and fatalistic with its prescient lyrics about a man in a mask, it is like a hushed continuation of "Pa'lante," the beautiful, elegiac piano ballad from The Navigator. "nightqueen" is dark, personal, and thrilling, like a cold finger traced along your spine, even more so when a wobbly tenor sax floats in from some disembodied underworld.
After "Precious Cargo"—the masterful combination of politics, poetry, and off-rhythm spoken (and sobbed) word—comes "Rosemary Tears," another jagged piece of Segarra's biography in song form, about a childhood abandonment they suffered and the realization that some things cannot be fixed between people; life ends, and there are no do-overs.
"Saga" brings this journey to a close, showing exactly how aligned the musician is to their heroes. The beats and thumps seem to have been transported from New York's abrasive streets. Inspired by Dr. Christine Blasey Ford's testimony during the Brett Kavanaugh confirmation hearings, which triggered a personal memory of Segarra's, it is about the importance of looking at oneself as not only a survivor, but as a joyful, powerful person who is not defined by the trauma they've experienced.
"I was going through all these album sequences, going by the rules: put the singles up front. And 'Saga' was really up there, of course, and then Brad called me one day and he's like, 'I walked around with the album and "Saga" has to end the story. It's so triumphant and strong, like: I'm not living in the past anymore, I'm going forward and you can't stop me.'"
An instrumental coda wraps up Life on Earth: the crystalline, peaceful Zen soundscape of "KiN," for which Segarra recorded bird sounds and the Singing Oak, an art installation, by Jim Hart, in a century-old New Orleans tree. "Hart put all these giant wind chimes in this tree in City Park and painted them black to hide them from view. I would run to it every day, and one day I thought, 'This tree's always performing. It's like a constant ambient show at this park.' So I recorded it on my iPhone because I felt so indebted to it, put it on the album, and gave it a songwriting credit. It's my favorite living musician," Segarra laughs.
—Jaan Uhelszki
Squirrel Flower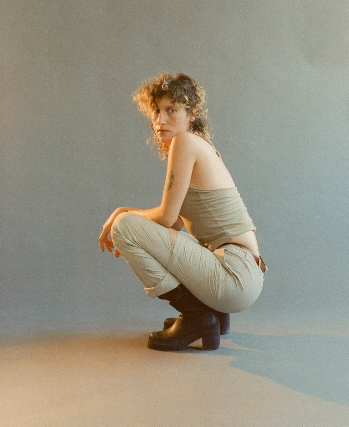 Squirrel Flower's heart-rending sophomore album Planet (i), following her 2020 debut I Was Born Swimming, is exactly that. A singular planet, a world entirely of artist Ella Williams' making. The title came first to her as a joke: it's her made-up name for the new planet people will inevitably settle and destroy after leaving Earth, as well as the universe imagined within her music. "Planet (i) is my body and mind," Williams says, "and it's the physical and emotional world of our planet. It's both." Buoyed by her steadfast vision and propelled by her burning comet of a voice, the record is a love letter to disaster in every form imaginable. Tornadoes, flooding, gaslighting assholes, cars on fire—these songs fully embrace a planet in ruin. As Williams rides from melancholy to jubilance to complete emotional devastation over the course of twelve songs, she carves out a future for herself and those she loves. Planet (i), out June 25, 2021 on Polyvinyl and Full Time Hobby, is at once a refuge, an act of self-healing, and a musical reflection of Squirrel Flower's inner and outer worlds.
Williams wrote most of the songs on Planet (i) before the COVID-19 pandemic, but disaster looms large in its DNA. Susceptible to head injuries having played a lot of sports in her youth, Williams received three concussions from 2019-2020; two at cafe jobs in her home state of Massachusetts, and a third, funnily enough, while making out with someone in a sloped attic at a house show. Amidst the chaos of touring internationally during her own healing process, she began weaving threads between her physical and personal sense of ruin and her lifelong fear of the elements: of being swept up by storms, floods, and the deep ocean. "To overcome my fear of disasters," Williams says, "I had to embody them, to stare them down." This journey of decay and healing is the lifeblood of Planet (i). "I'm not scared of the storm," she insists on "Desert Wildflowers." "I'll be lying on the roof when the tornado turns."
Once quarantine set in, Williams, known for her magnetic live concerts, began to produce demos in her room, amassing a collection of more than 30 recordings. "I constantly write," she says, "but because of the pandemic and the unemployment checks I received, I was able to spend every day recording what became the skeleton of this album." Feeling a sense of artistic synchronicity over international phone calls with producer Ali Chant (PJ Harvey, Perfume Genius), and with newfound covid antibodies, Williams flew to Bristol, UK in the fall of 2020 to record Planet (i) at Chant's studio, The Playpen. "We had this shared creative language," she recalls, "and the recording process was, like my demo process, very sculptural. Instead of recording live with a full band, we built this record layer by layer, experimenting, taking risks." Williams dedicated her time in Bristol to exploration, both in the studio and outside of it. As she roamed the city in her beloved green garden mucks, the same boots featured on Planet (i)'s album art, Squirrel Flower unlocked a new creative alchemy.
While Williams and Chant played most of the instruments on the record, Bristol drummer Matt Brown and Portishead's Adrian Utley also joined their sessions. "Adrian brought such stunning textures to the arrangements," Williams says. "I was starstruck watching him play guitar with a pair of pliers." And when Chant suggested the idea of backup vocals, Williams, whose voice had until now stood alone in her songs, enthusiastically enlisted friends and family to join her remotely with their voices and instruments. Around Squirrel Flower's voice and vision dance the contributions of Jess Shoman (Tenci), Tomberlin, Katy J. Pearson, Jemima Coulter, Brooke Bentham, and her brothers Nate and Jameson Williams, as well as her father Jesse.
The songs on Planet (i) are Squirrel Flower's instruments for connection: with the people in her life, her collaborators, audiences, and ancestors; a lineage of artists whose spirits continue to inform her art. At the heart of this record is an insistence on connection and healing in the face of catastrophe. Williams treats her songs like well-loved cars, vehicles with busted exteriors and flame-kissed engines. These songs hurtle down a freeway wracked by firestorms and flash floods, their drivers in search of human connection, no matter how tenuous, no matter how painful. In this search for communion, Squirrel Flower sings with the clarity of an artist who has discovered not only the precise power of her voice, but all the devastating shapes it can take.
On the explosive lead single "Hurt A Fly," Williams is a volatile, relentless presence. She takes the persona of a manipulative lover as she lurches from guilt to sorrow to renewed fury, backed by whirring, frenetic guitars. And in "I'll Go Running," Williams begins on a haunting simmer, pitching her voice over languid, slow-burning guitars from quiet resistance to full-on emotional rebellion by the song's end: "I'll be newer than before / I'll be something that you've never seen." It's the mantra of an artist in flux, obsessed with motion and change, but determined to move and change on her own terms. On "Flames and Flat Tires," the third single, Williams rides this motion onward in a bright wave of sound, comparing her body to a burning car on a 4am joyride, the city crumbling behind her.
On Planet (i), Squirrel Flower reveals a bright and uncompromising vision, confident in her powers of self-healing and growth. No matter what the disaster ahead of or within her looks like, and no matter how she shape-shifts to meet it, Squirrel Flower will always be a world of her own, a space-rock flying down the road in flames and flat tires. As Planet (i) wheels to a close from the cartop lovesickness of "Iowa 146," the floodwaters of "Deluge in the South," and the tornado fury of "Pass," to the hushed climax and acceptance of "Starshine," she leaves us to face down disaster with hope in hand:
Don't let it pass.
Don't let it wither.