Finn's Motel
Soft Crisis, Staely Avenue
Sat,
May 27 2023
Show:

@ 8:00 pm
Off Broadway
All Ages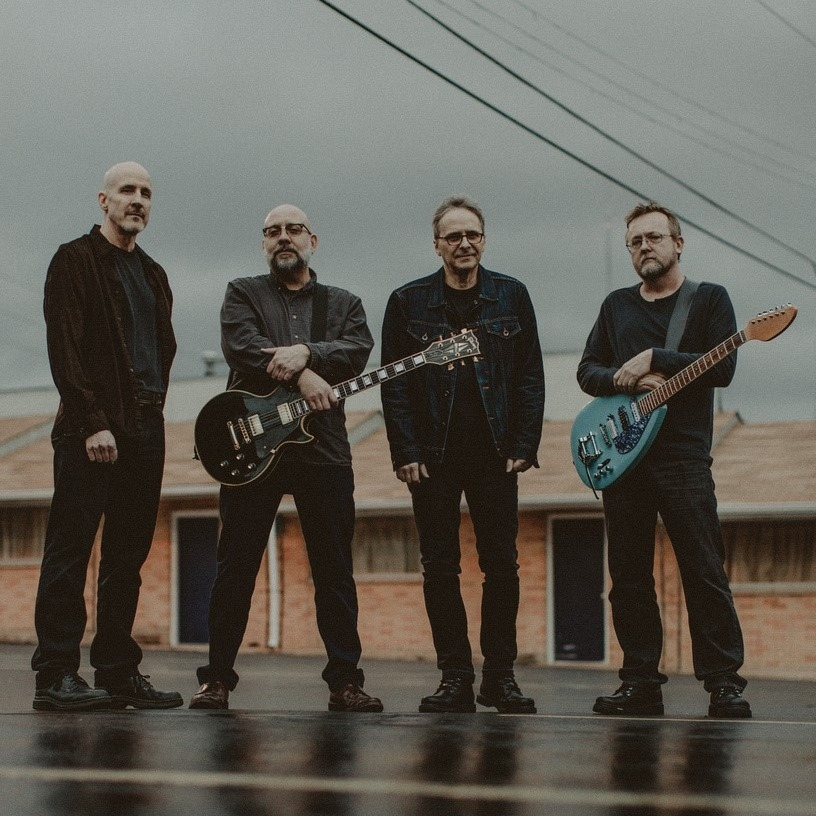 Additional Info
Finn's Motel
w/ Soft Crisis & Staely Avenue

SAT. May 27, 2023
Doors 7PM | Show 8PM
$15 ADV | $18 DOS
Artists
Finn's Motel
Finn's Motel is a pop/rock/indie/alt band from St. Louis, Missouri. The current lineup is Jack Petracek (drums and percussion), Steve Scariano (bass guitar), Joe Thebeau (vocals, guitar), and Scott Roever (lead guitar).
Rising up from the ashes of a nervous breakdown in 2004, Joe Thebeau started recording demos for what would become 2006's Escape Velocity album. At first, the songs were an escape from the daily grind; a catharsis. They developed into a conspiracy theory involving the corporate working world and its plan to destroy the very people it employed. As it evolved, the laws of physics seemed to be relevant to an explanation for the way we move in orbits and are drawn toward and forced away from each other. Friends in Prisonshake, including Scat Records' Robert Griffin, Steve Scariano, and Patrick Hawley heard the demos and volunteered to make it a full-fledged rock record. Mixed by Champaign-Urbana rock savant Adam Schmitt, the recordings were transformed from basement rock to ready for the big stage. After a mini-tour in 2006 and a trip to SXSW in 2007, Finn's Motel returned to the basement to work on new songs, this time as a band. Some progress was made on demos but ultimately they were put on ice. Prisonshake released the double-album Dirty Moons which would be the last in their catalog. The Griff hung up his spikes soon after and Finn's Motel went on hiatus.
Over the course of 10 years or so, recording sessions would materialize and songs would hit various stages of completion, but, a return to college from 2010-2013 kept Thebeau too busy to finish. Lots of songs were started and stopped and started again. It wasn't until 2014 or so that he got to work, in earnest, employing the help of former bandmate and sometimes Finn's Motel live compatriot, Matt Meyer.
The first set of new tunes in 10 years, Jupiter Rex, was released on Record Store Day in 2017. In the early days of air travel, crossing the equator was celebrated with a certificate stating you had crossed Into the Realm of Jupiter Rex. The record tells tales of lines and latitudes and crossing boundaries across a musical landscape of rock, pop, indie rock, and the occasional acoustic tune. Around this time, Hawley decided to hang up his skates, at least w/re to Finn's Motel (you can still find him on Erik Voeks' records). So, to start playing shows two new cats were brought into the fold: Scott Roever (Treeweasels) on guitar and Jack Petracek (Grandpa's Ghost) on drums. While this new lineup started rehearsing and playing live shows, the team of Meyer and Thebeau kept working on mixes and masters and delivered Quinta del Sordo just in time for Christmas 2017. Quinta del Sordo is the name of the residence where painter Francisco Goya spent his final years and also where he painted the famous Black Paintings directly on the walls. Quinta del Sordo re-paints some of those images of life and death using guitars, bass, and drums.
Still in recording mode, Thebeau went digging backward and resurrected the demos from 2007 and fleshed them out to create the Stone Lions EP in 2018. Soon after, Finn's Motel's new lineup would start working on new music, sometimes in Joe's basement and sometimes in Jack's newly christened Rolltop Studios. The plans for continuing work sort of hit the skids early in 2020 when Covid struck. But, we're working remotely to finish up what is most likely to be at least two full-length albums. The title song for the first planned album, Fireworks or Lightning was released on video on what was supposed to be Record Store Day 2020.
Soft Crisis
Soft Crisis is an alt rock band from St. Louis, MO. Formed in isolation during the early days of the pandemic, Soft Crisis began writing songs remotely only to unite in-person to record their first EP, "I'll Stop Now." Comprised of Reshad Staitieh (vocals and guitar), John Hardecke (drums), Garth Jenkins (bass), and K. Erik Seaver (guitar), members of Soft Crisis have released music on a variety of indie labels, performed on radio, and have even appeared on public access television. When the world opened up for live music again in 2022, Soft Crisis took to the stage and has been a regular presence at shows in and around Missouri ever since.
With a guitar-laden sound and introspective lyrics born from nostalgia, Soft Crisis draws comparisons to "college rock" bands of yesteryear. Their beards may be greying, but their edge is palpable. "I'll Stop Now" is available for purchase online, but you'll probably have more fun getting the album at one of the band's shows.
Press for the "I'll Stop Now" EP
Columbia Daily Tribune, "How St. Louis band Soft Crisis does — and doesn't — embrace the '90s on its latest EP."
"…[T]he band bears resemblance to a certain coterie of '90s acts; Staitieh's baritone vocals — often straddling a line between singing and speaking, sympathy and sneer — and the band's guitar-driven orientation recall the likes of Toadies, Local H and the best of Better Than Ezra. But Staitieh and the rest of Soft Crisis — John Hardecke (drums), Garth Jenkins (bass), K. Erik Seaver (guitar) — also ground their songs in the present tense, responding to this moment, then the next; to, well, the soft crises any given day presents."
The Pitch Weekly, "Premiere: Soft Crisis' video for 'Bind'"
"The EP and the music of Soft Crisis is, at heart, indie rock which recalls the time before indie, when everything from Neutral Milk Hotel to the Replacements fell under the rubric of "college rock." The singles collection is exactly the sort of thing a new KJHK DJ and their parents could readily fall in love with, and we're pretty excited that we get to premiere a video from I'll Stop Now to celebrate its release today."
Lost in The Nordics, "If you're not listening to Soft Crisis' "I'll Stop Now", you're missing out!"
"Soft Crisis still has an utterly unique sound, and they simply display their alt-rock influences in little glimpses throughout the record… I really enjoyed I'll Stop Now. It toes the line between light and dark. Yes, there's a lot of darkness to this EP, and there are plenty of downtrodden moments, but the joyous vocals, punchy beats and electrifying guitars all help to give a jubilant vibe to even the most sorrowful melodies on the release."
indiemusicreviews.net, "Soft Crisis Releases EP"
"Their music feels heavily steeped in '90s indie rock which I happen to love. I grew up on bands like Dinosaur Jr. and Pavement and it was obvious to me that they were influenced by them. In fact the lead singer vocals have a fairly striking resemblance to Stephen Malkmus. I can already visualize the ears of fans of Pavement perking up… Suffice it to say if you enjoy '90s indie rock in the spirit of bands like Yo La Tengo, Pavement and others you will love this. On top of that the band has a cohesive sound and thought the EP plays very well from beginning to end. In my opinion, there's a whole lot to appreciate here. Take a listen."
Staely Avenue