Model/Actriz
Conjunto Primitivo
Wed,
Oct 11 2023
Show:

@ 8:00 pm
Off Broadway
All Ages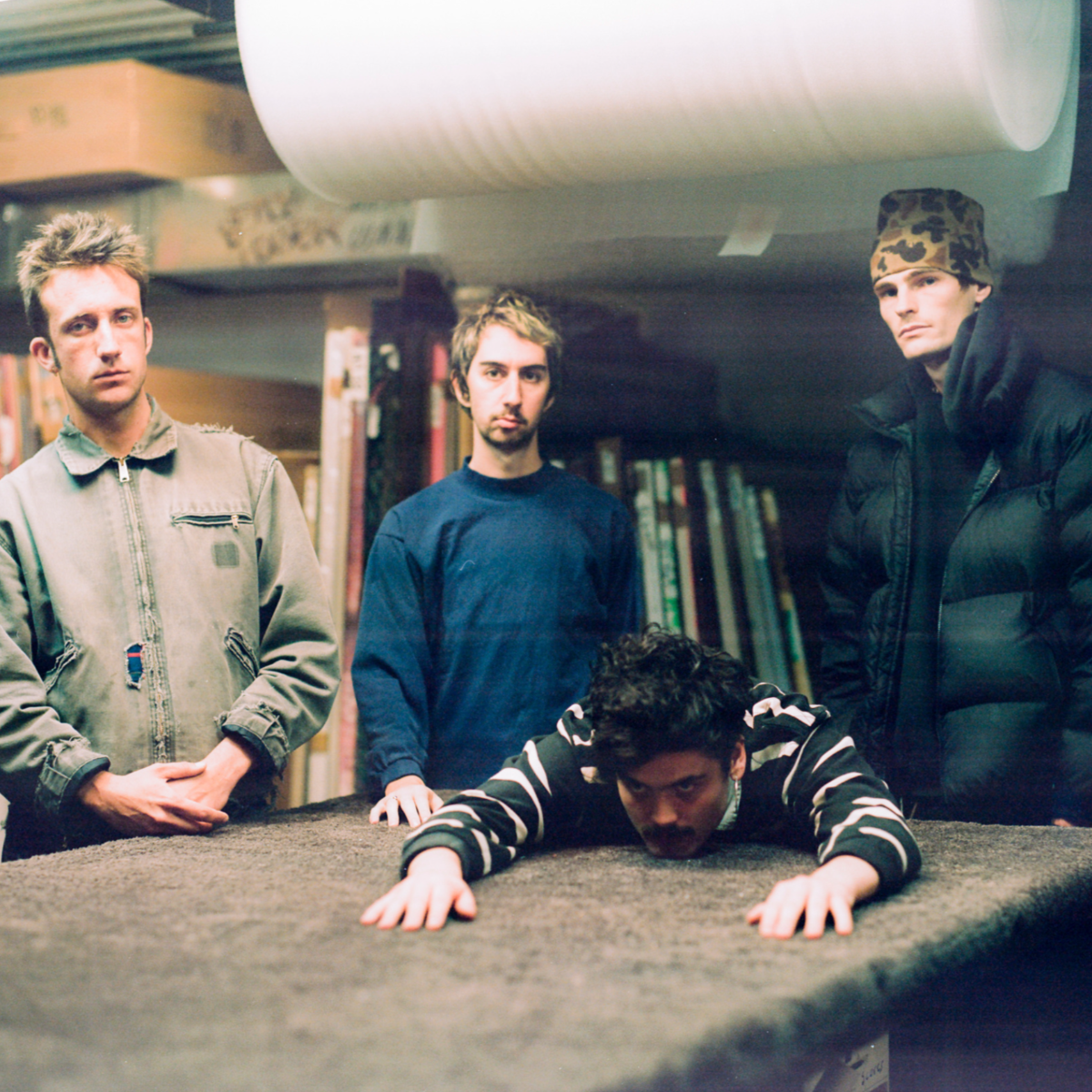 Additional Info
Model/Actriz
w/ Conjunto Primitivo
WED. October 11, 2023
Doors 7PM | Show 8PM
$15
All Ages (21+ with valid ID to drink; $3 minor surcharge under 21)
RSVP:
Model/Actriz
Artists
Model/Actriz
Dogsbody, the debut album by Brooklyn-based Model/Actriz (vocalist Cole Haden, guitarist Jack Wetmore, drummer
Ruben Radlauer, and bassist Aaron Shapiro), is a coming-of-age album set between the hours of dusk and dawn. It
is as much an exploration of love and loss as it is a sharp, piercing, and violent ode to the explosive joy of being alive
- the overwhelming brightness of staring at the sun.
The music takes inspiration from the physicality and repetition in electronic music, and the relentlessly propulsive
sounds of the cityscape and cycling overground trains. The band was inspired by dance music and how it can be
rebuilt, remixed, or broken down into the core elements that keep a song intact and incisive. Co-produced and mixed
by Seth Manchester (Lingua Ignota, The Body, Battles), the record feels inherently tactile; written in starkly different
environments (Shapiro's parents' house in Vermont, Haden's grandfather's cabin in Pennsylvania, the Pfizer building
in Brooklyn, as well as the basement of Tribeca art gallery the Hole) and reconstituted into the band's own world.
The resulting tautly-rhythmic, industrial chug of the music creates a bed for vocalist Cole Haden to lyrically explore -
the city, and all of its dangers and temptations ooze through the lyrics: "And then it's bleeding over / onto my jaw /
onto my neck / onto the floor / pours out of my hands / seeps into the grass / running through the drains / swallowing
the sun / giving it away cause I got what it takes" ("Slate"). Dogsbody plays with the duality of nature as being both
ordinary and overwhelming: The thrumming of "Amaranth'' describes an imaginary flower that never fades, and even
as the city decays, Haden turns an evocative lens on his hope for its regeneration ("clear the moss from days
dissolving and / see the petals stagger onto me"). It is akin to Pinocchio (if only he was gay living in a city and
fighting an army of megazords) as a narrator trying to find himself amongst a series of circumstances that appear
insurmountable at first; enemies and allies that are indistinguishable to his wide-eyed gaze.
Opening track "Donkey Show" introduces the album's lyrical landscape by way of Haden's experiences lingering and
sifting through Grindr at late, ungodly hours. It laments the times when his efforts seeking intimacy grow more urgent
as the night wanes and the potential for fulfillment gradually disappears. The ways in which we form emotional maps
and overlay them across our physical landscape are best represented in the stripped-back comedown of "Sun In," a
surprisingly tender touchstone for the record. "The city put itself together," he enunciates, and the whole of Dogsbody
is an attempt to connect threads of distance and movement.
Model/Actriz are known for their confrontational live shows, but the band's performances, as well as Dogsbody itself,
are really a portal of invitation and transcendence, a series of intimate moments shared between those attending.
Haden has an avid interest in poetry, but at the same time finds comfort in utter transparency: "The less privacy I
have, the more control I have in finding myself. When you leave things up to other people's interpretations, you end
up at the mercy of them," he explains. "Oh bitch I might / enter into my pure mode," he deadpans in "Pure Mode".
Veiled reference points often unfold through lurid lyrical imagery and reflect the band's real-life experience: "Crossing
Guard" references both the JMW Turner painting "Rain, Steam, and Speed" and Lady Gaga. Haden also often
stresses the influence of the musical Cats, which depicts an annual ritual sacrifice through a terrifying bacchanal
ceremony, symbolic of the heady distractions that are an inevitable part of living in a city. Haden recalls nightly
dreams that presented a parallel to a different life, "one where I shared it with someone who felt like the great love I
yearn and hope to be destined for, and how the daily grief of finding myself alone every morning afterward eventually
resulted in my habitual fear of sleep." The record portrays these distortions of reality without obvious resolution,
accelerating at breakneck speed before eventually dissolving into uneasy release.
In lead single "Mosquito," Haden repeats over and over, "I want this life." "I want to be a life band and not a fuck it all
band," he stresses. In seeking a certain permanence Haden cites the Tracy K. Smith poem 'In the Largeness We
Can't See',' where Smith writes: "we move in and out of rooms, leaving our dust... all that we see / grows into the
ground. Despite the rough edges of Dogsbody's exterior, the weight of the music carries with it the reminder to care
for yourself and the life you have the power to build. If you're looking, vulnerable moments are scattered throughout
the album, and Model/Actriz's steadfast convictions often feel poetic in their heaving impact.
Conjunto Primitivo