Fusia Fest 2023 - Give the DJ their Flowers: Tribute to DJ Grandmaster Flowers
DJ Reminisce, DJ Smitty, DJ Nico Marie, DJ Sinamin, G.Wiz
Sat,
Oct 21 2023
Show:

@ 4:00 pm
Off Broadway
All Ages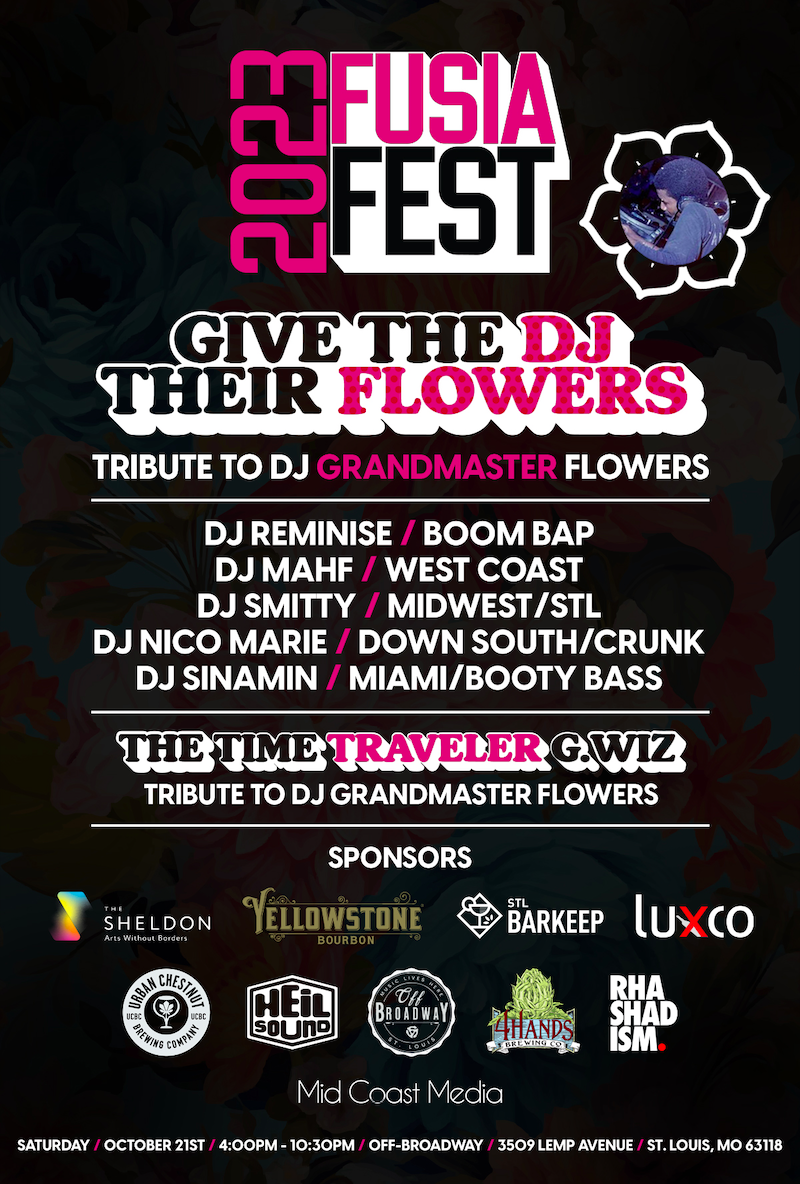 Additional Info
Give the DJ their Flowers: Tribute to DJ Grandmaster Flowers

DJ Reminisce (Boom Bap)
DJ Mahf (West Coast)
DJ Smitty (Midwest/STL)
DJ Nico Marie (Down South/Crunk)
DJ Sinamin (Miami/Booty Bass)
The Time Traveler G.Wiz

SAT, October 21, 2023
Time: 3PM - 10:30PM
Tix: $15 / $20

Join us on Saturday, October 21st, at Off Broadway at Fusia Fest for a special event titled "Give the DJ Their Flowers: Tribute to DJ Grandmaster Flowers." We will honor the legendary DJ Grandmaster Flowers, also known as the "Father of the Mobile DJ Movement" and a key influencer of hip-hop's DJ pioneers in the late 1960s and early 1970s.
Five renowned Saint Louis-based DJs will lead festival-goers on a mesmerizing journey through the various sub-genres within Hip Hop history, culminating with the headlining act, "Time Traveler," Saint Louis Legend G.Wiz paying homage to DJ Grandmaster Flowers by celebrating his groundbreaking contributions to DJ culture.
Prepare to be transported back to 1970 as G.Wiz skillfully blends various genres that were a hallmark of DJ Grandmaster Flowers' style, including rock, disco, funk, R&B, and jazz. Get a glimpse into the block jams that influenced legendary DJs like Grandmaster Flash and DJ Kool Herc, shaping the foundation of Hip Hop as we know it today.

$15 - General Admission Advance (Day of Show: $20)
Sponsors:
Mid Coast Media, Off-Broadway, Yellowstone Bourbon, Luxco, Sheldon Concert Hall and Galleries, ByJack, Heil Sound, 4 Hands Brewery, Urban Chestnut, 1220 Spirits, STLBarkeep, Rhashadism.
Artists
DJ Mahf
DJ Reminisce
DJ Smitty
DJ Nico Marie
DJ Sinamin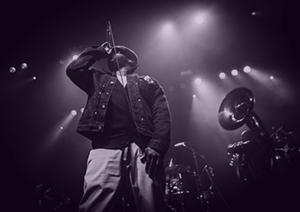 G.Wiz