New Music Circle Presents: Victoria Shen and Aaron Dilloway
Aaron Dilloway
Sat,
Dec 9 2023
Show:

@ 8:00 pm
Off Broadway
All Ages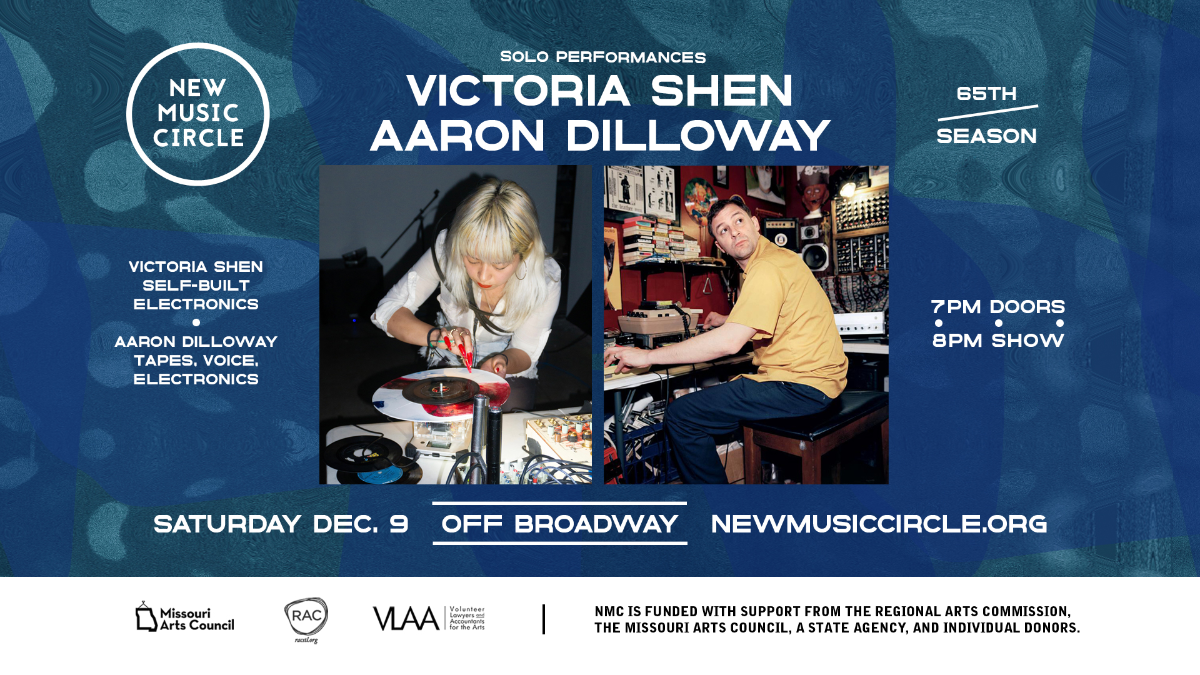 Additional Info
New Music Circle presents:

solo performances by:
Victoria Shen (SF/Mass)
Aaron Dilloway (Oberlin, OH)

Saturday, December 9th, 2023 | 7pm Doors / 8pm Show
Off Broadway (3509 Lemp Ave, 63118)

Victoria Shen – electronics and self-built instruments
Aaron Dilloway – tapes, electronics and voice

This event is all ages (please bring ID) and open the public. $20.00 regular admission / $10.00 students and struggling music supporters. Tickets and info:
newmusiccircle.org
Artists
Victoria Shen
"The idea of chaotic sound functions on a few different levels in my practice. The circuits of the synthesizers I use are based on mathematically chaotic principles. A chaotic system is one in which very small changes in initial parameters result in dramatically complex, aperiodic, and unpredictable results."
Victoria Shen, the Massachusetts-based noise artist known as Evicshen, is a wildly ambitious and unpredictable musician. Working with electronics for more than a decade, she is adept at creating industrial, experimental soundscapes that can produce vibrating low registers, high-pitched squeals, and everything in between. Her live performances combine bursts of immersive physical movement one moment and concentrated crouching over banks of synthesizers the next.
Her multimedia practice extends beyond musical composition and performance to include installation and non-traditional methods of distribution. Her DIY approach to deconstructing the concepts of "materiality, value and mass production" both integrate and re-contextualize the formats of the readymade and assemblage techniques. For example, the album art for her debut LP, Hair Birth, utilizes copper to transform the cover into a loudspeaker through which the record can be played. In 2021, Shen produced a series of cut-up records in cast resin embedded with found materials, functioning not only as playable music media but as unique art objects. For recent performances, she pioneered the use of Needle Nails, acrylic nails with embedded turntable styluses, which allow her to play up to 5 tracks of a record at once.
Shen's sound practice is concerned with the spatiality/physicality of sound and its relationship to the human body. Her music features analog modular synthesizers, vinyl/resin records, and self-built electronics. Eschewing conventions in harmony and rhythm in favor of extreme textures and gestural tones, Shen uses what she calls "chaotic sound" to oppose signal and information, eluding traditionally embedded meaning.
She has performed solo across North America, Japan, Mexico, and Europe as Evicshen. Some notable venues in which she has performed include Boston City Hall, the Solomon R. Guggenheim Museum, ISSUE Project Room NY, and DOMMUNE Tokyo. Shen has also been an artist in residence at many international residencies including Elektronmusikstudion EMS Stockholm SE.
Shen currently works at the Center for Computer Research in Music and Acoustics Stanford and School of Visual Arts NY.
Aaron Dilloway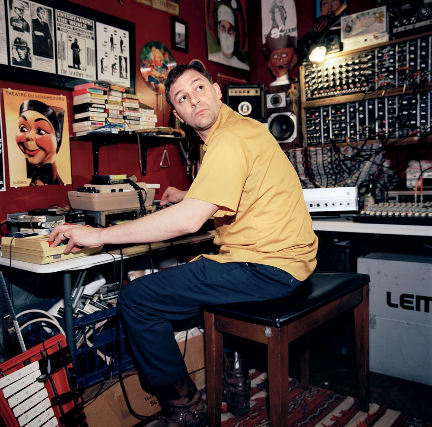 Aaron Dilloway is one of the most creative and prolific figures in the Midwest American experimental/noise scene. His performances and recordings incorporate rhythmic loops from eight-track tapes, vocal improvisations, found sounds, and field recordings. He uses contact microphones in order to generate harsh, feedback-laced noises, sometimes treating it through a series of tape loops in order to create bizarre, distorted voices. While he channels some dark, violent energies into his sonic constructions, there's also a crucial element of playful, absurdist humor to his work, making his performances confusing yet highly enjoyable spectacles of Dadaist performance art.
While Dilloway is perhaps best known for his involvement with Michigan noise group Wolf Eyes, he's had an extensive solo career, issuing hundreds of recordings (usually limited cassettes) under his own name as well as other monikers. He's collaborated and issued split releases with other well-known noise and experimental artists such as Kevin Drumm, John Wiese, Lucrecia Dalt, Body/Head, and many others. Dilloway is also the owner of Hanson Records, a long-running experimental music label, as well as a brick-and-mortar record store and mail-order service based in Oberlin, Ohio.
Around 2007, he moved to Oberlin, Ohio and began collaborating with numerous Ohio-based artists, including Emeralds and Robert Turman. In early 2012, he released a long-in-the-making double LP titled Modern Jester, which featured some of his most rhythmic compositions to date. In 2013, Dilloway contributed to Wolf Eyes' No Answer: Lower Floors album, which was hailed as one of their best works. Later in the year, he opened up his Hanson Records shop in Oberlin. In 2017, Dais Records released Dilloway's full-length The Gag File. Described as the sequel to Modern Jester, the album incorporated vocal manipulations similar to his live performances. Along with the regular flow of limited tape releases, Dilloway spent parts of 2019 and 2020 collaborating with German abstract electronic artist Lucrecia Dalt. Their joint work was released in July 2021 as the full-length album Lucy & Aaron, issued on Dilloway's Hanson imprint. That November, he joined Body/Head's Kim Gordon and Bill Nace for Body/Dilloway/Head, a hypnotic mesh of drones and edits that was released by Three Lobed Recordings as part of the label's 20th Anniversary series.