BAILEN w/ BEL
Bel
Tue,
Mar 26 2024
Show:

@ 8:00 pm
Off Broadway
All Ages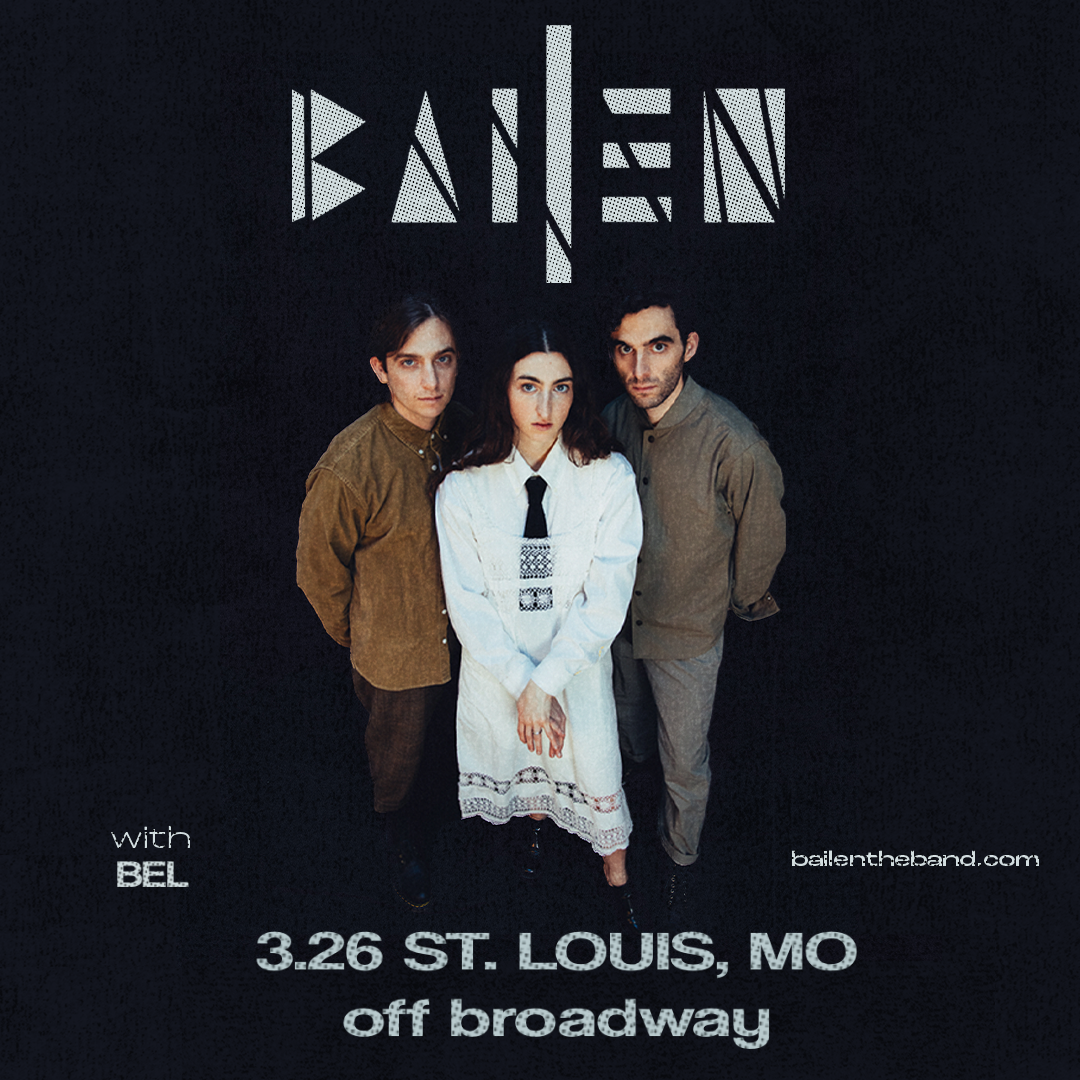 Additional Info
BAILEN
w/ BEL

TUE. March 26, 2024
Doors 7PM | Show 8PM
$25 ADV | $30 DOS

All Ages (21+ with valid ID to drink, $3 minor surcharge under 21)

Artists
BAILEN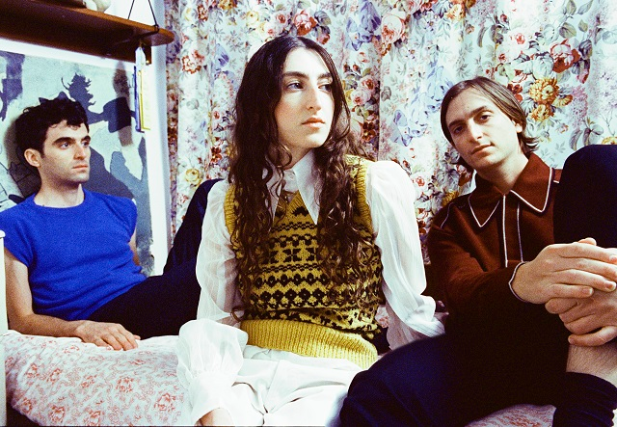 Tired Hearts, the new album from rising indie-pop power trio, BAILEN, delivers a dazzling set of songs that navigates the space between the heart's expectation and the head's sober reality. New York based siblings, Daniel, David, and Julia's second full-length album for Fantasy beats with empathy, vulnerability, and resolve.
At times intricate and playful, measured and elaborate, the 12 original songs on Tired Hearts wrestle with an uncertain future where ethics and morality—both communal and personal—seem to be constantly shifting. Locating one's compass amidst the chaos—a world-wide pandemic, toxic social media culture, economic insecurity and political turbulence—is at the LP's core.
Producer Brad Cook (Bon Iver, Waxahatchee, Snail Mail) who, along with the band, co-produced Tired Hearts, helped to expand BAILEN's ambition beyond what they initially envisioned. "We'd played the last record live a hundred times before recording it, so we tracked a lot of it live," Daniel explains. "With Brad, we took a collagist's approach. It freed us up to explore and be sonically adventurous."
In contrast to the road-tested songs on their accomplished debut LP, 2019's Thrilled to Be Here produced by John Congleton, many of the songs on Tired Hearts were honed in the studio as opposed to live on tour – "the songs changed so much over the course of recording process," Julia remarks.
Most noticeably, Cook encouraged the trio to experiment with how they sing. "We deliberately used the more vulnerable parts of our voices," Julia says. "After not being in the studio for years, we were in vulnerable places, and this record reflects the frustration and tenderness of that time." "We pushed ourselves lyrically, it's the most exposed, intimate music we've written as a result," David affirms.
Indeed, BAILEN's radiant harmonies, spare, synth-driven tracks, and futuristic, ear-catching arrangements usher in Tired Heart's exhilarating avant-pop evolution. "Shadows," affectingly captures "the moment you see someone and realize you can spend the rest of your life with them." "Nothing Left to Give" echoes of HAIM's sparkling pop, while "These Bones," contains a hint of Phoebe Bridgers' hushed intimacy.
Perhaps no two songs embody that fresh ethos (and the band's incredible range) more than the high-gloss, New Wave dance track "Call It Like It Is," and the stunning "BRCA (Nothing Takes Me Down)," which takes its name from the hereditary breast cancer gene that Julia and her mother (who is a breast cancer survivor) share. Over the track's slow building rhythmic pulse, Julia sings of hospital gowns and uncertainty, untying a complex knot of familial anxiety, guilt, and acceptance, while embracing the determination to move forward: I'll still live like I'm dying/ But I won't let it take me down, she insists. "It's about finding ways to not be defined by these circumstances, and to move past them with resilience."
Raised and rooted in New York City by classically trained musician parents and their wide-ranging, eclectic record collection, BAILEN has emerged as a favorite in indie circles by cultivating a passionate following via word of mouth, robust playlisting and a stream of steady touring and collaborating with artists such as Amos Lee, The Lone Bellow, Joseph, and Hozier to name a few.
On Tired Hearts, their exquisite and thought-provoking new album, BAILEN learns how to dream in the face of life's uncertainty and in the process, moves forward aware, resilient, and hopeful. "This album is a breakthrough for us," Daniel says. "It's been a rocky road, but we're really grateful that it's led us here."
Bel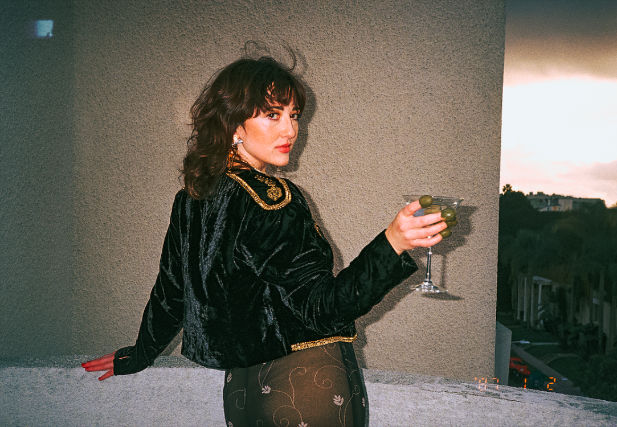 Rarely does modern music earn the badge timeless, but BEL cuts through the noise. Hailing from the small town of Clovis, California, Isabel Whelan crafts nostalgic songs with honesty and attention to detail, occupying the intersection of indie, pop, and folk, while taking cues from the likes of Stevie Nicks, Joni Mitchell, and Mazzy Star.
In 2022, BEL released four singles (including collaborations with girlhouse and Boyish), which culminated in the release of her sophomore EP, Jet Lag. Throughout the rollout, she steadily built a core fanbase on socials while receiving support from Sirius XM (300+ organic plays), Pandora (2 playlist covers), Spotify, Apple, and several publications. BEL headlined the Knitting Factory in Brooklyn and supported Isaac Dunbar, Beach Weather, and Kristiane, positioning herself on the precipice of the indie zeitgeist.
After landing on a handful of "Artists to Watch in '23," lists, BEL has been steadily releasing a string of singles leading up to her third EP due out later this year. The project's collaborators include Sean Silverman (Beach Weather), Jack Laboz, Jon Santana, Day Wave + more. Her single "Are You Okay?," reached #1 on SiriusXMU organically in April/May 2023 along with support on AltNation and KCRW. After her recent direct support for Boyish on their June 2023 US tour, and upcoming Mind The Gap festival, 2023 is shaping up to be an exciting year of releases and live performances for BEL.